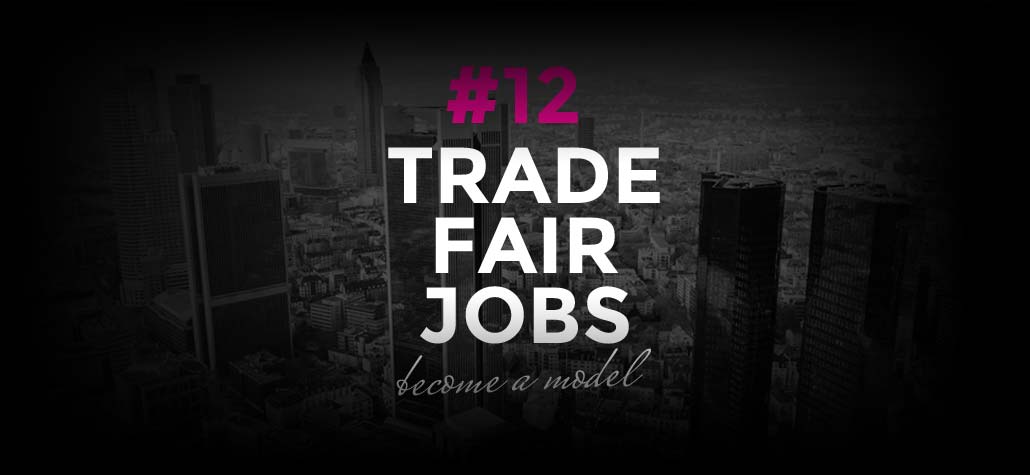 Modeling Jobs: Trade shows | Become a model #12
What exactly are trade shows? Well in general, trade shows are just very well-planned marketing events for producer of products and service provider. Advertisement on site in real time. They present their products to potential customers with the help of models. Their clients are buyer and retailer, press and end consumers. In United States, there are many famous trade shows for technical equipment, automotive industry, food industry, fashion. From New York to London – trade shows are a however not the best place for models.
Trade show models: Only high paid!
Why are models so wanted on trade shows? The answer is simple: because with beautiful and interesting people, the company philosophy and the products/service will be portrayed better, and they might reach potential consumers better. In short: a great model will support the reputation and image, and in the end, the turnover of the company. Professional models and new faces are booked for trade shows. If you are working at a trade show, keep in mind just to accept bookings for bigger, renowned companies. The show, presentation or trade show should be exclusive with selected industry visitors, buyers, and media representatives. Like presentations of latest fashion collections of an exclusive brand or order days for selected visitors or retailers.
Reputable trade show jobs: Be careful
Jobs on trade shows should be treated with caution. Many trade show jobs are more like a hostess job. Which means your task will not be the presentation of the product, but rather taking pictures with visitors, long working hours and tasks, which you should not do as model. Like standing in front of a prize wheel in a bikini or on a racecourse, body painting on gaming conventions or handing out snacks and flyers is not really the work a model should do. This is important: models should only do jobs as trade show models in the premium segment, which means jobs with high and justified payment in a high class surrounding for renowned brands in a reputable setting. If you ask yourself how high this payment would be, you can calculate a minimum of middle to high three figure daily fees plus travel expenses and hotel accommodation. There are so many trade shows in United States and so many ads looking for models on the internet. Even on Facebook you will see a lot of job offers for party promotions, grid girls and other less positive jobs for models. As a model with an agency, they will select the job for you. New faces without an agency and who don't know the industry yet should try to find out if this job offer is serious. What impact will this job have on my career? Is this a job a model would do? Is it paid well? It is not only about your career but there might be dubious persons behind that job offer. As always, forward all enquires to your agency. If you are not working with an agency (yet) use these simple questions to check the job offer:
Feature x CM Models
Your in Germany the next days or weeks? Discover CM Models x Germany Casting Tour 2023.
Checklist: Modeling jobs on trade shows
What product or what brand is it?
What would I have to do?
What are the working hours?
Who is behind that brand?
Will I get an outfit by the client? Is a hair & makeup artist on site?
How high is the payment, what will they expect from me?
Where is the location and where will I have to work?
As a model, you will want to protect your image and don't do any unreputable jobs, or dubious work for products and services being connected to you. If you are meeting reputable clients on a trade show, it will have a positive effect for your modeling career. Google and look through the internet, look for ratings and testimonials of other companies, payments and jobs. If you find a lot of negative stuff without any positive feedback: don't do it!
Note > You will get a lot of enquiries via Instagram and social media. They will promise you great photoshoots, dream locations and a lot of money. And then there will be strange skype meetings during the night, but not jobs. With every enquiry – get the details. Is it a photographer? Where will pictures be used? How can I reach the client? They should be able to answer all your questions.
Tasks at trade shows
For good trade show jobs: there are many different trade shows. The very famous ones in United States are beauty, automotive, technical equipment, furniture, gaming, fitness, and fashion trade shows, and of course shoes. But we also have boats, food, exclusive products, or photography. You see there is a lot. As a model, you will present the products and services the way the client wants it to the public. First priority is an open, pleasant and neat presentation of yourself.
odels are "the face" of the respective company for the entire trade show, and will be in close contact with clients. Therefore, you have to be polite and positive with these jobs. As a classic model, you are the support of the people working at the trade show. While new cars are being shown, an award has to be handed over or the advantages of a new camera will be shown to customers. While doing your job you will get in touch with many customers and visitors. Maybe just with selected visitors like the already mentioned buyers or media representatives. Sometimes you will get tailored clothes for the show from the client.
Just one example: we recently worked with a client from Israel, one of the biggest producer for paper production machines. Sounds boring at the beginning, but our models got very exclusive designer dresses, all tailor made out of paper. Every hour they were a visual support for a short presentation and showed potential new customers (printers, publisher) with which precision even huge machines can produces. Of course, I could write even more stories about jobs at trade shows, but I would rather look at hair shows shortly. One of these hair shows, like the "Top Hair International", it is usual that models will be getting a new haircut in front of the audience. The visitor will see live how the service provider works and how the products work with that. For you, as a model, consider this: never change your haircut for a job! Your book represents your type and you should not change that if you want to be successful as that type and follow your goals. If your haircut does not match your sedcard anymore, your booker cannot submit you for jobs. Trade shows are a big segment, depending on the trade show, the tasks may vary.
herefore, let's get back to the world of fashion! Because as versatile as trade shows are, you will not work a lot as model on sweets trade shows or automotive ones. The world is all about fashion.
Quest Author: Stephan M. Czaja / CM Models (Head Booker) from 'The Model Book'
https://modelagency.one/wp-content/uploads/2017/10/modeling-agency-become-a-model-12-trade-fair-jobs-communication-languages.jpg
475
1030
Trainee
https://modelagency.one/wp-content/uploads/2023/03/logo-icon-model-agency-one-new-york-los-angeles-paris-milan-london-best-agencies.svg
Trainee
2018-02-25 23:17:21
2020-11-11 11:33:01
Modeling Jobs: Trade shows | Become a model #12