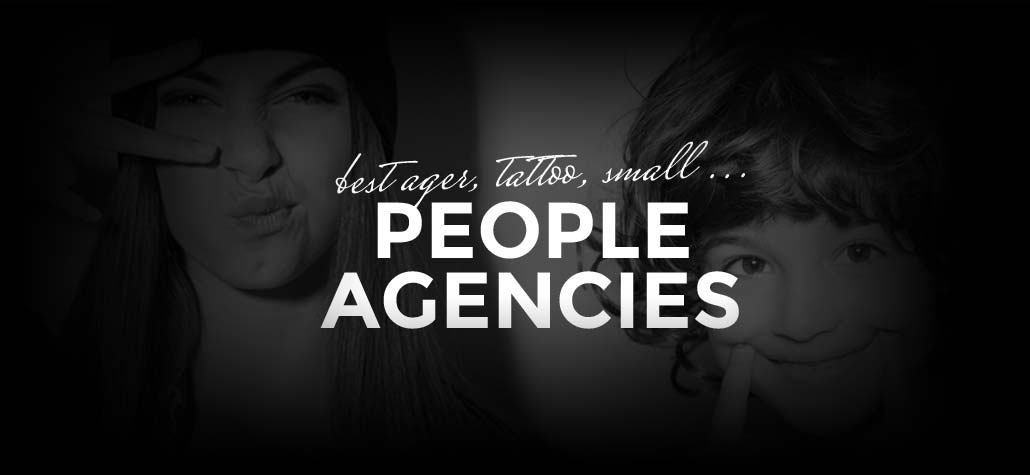 People agencies: Recommendations for tattoo and extraordinary models
People agencies – The dream of every model? The big advertising campaigns and photo shoots! Whether it's for TV advertising, social media, especially for YouTube or the classic look book by the fashion designer. Who wants to fulfill his dream, needs a good management or a good agency behind him! In addition to the classic modeling agencies that mainly serve fashion customers and customers from the high fashion industry, there is also an agency type, people agencies specializing in advertising and people with character!
People agencies, as well as modeling agencies, provide talented people with clients for jobs. The task of an agency is always the selection of the best talents for the customers. If you can make it into a good agency, chances are you have jobs. The dimensions are not decisive, but the character and your look!
Tattoos, a wild mane, crooked teeth or the housewife next door. In the advertising for productions to TV, City Lights, bill boards, and much more. always looking for new faces.
Feature x CM Models
Your in Germany the next days or weeks? Discover CM Models x Germany Casting Tour 2023.
Advertising agencies in Los Angeles, Las Vegas, Chicago and more
All major German cities have People Agencies. It is advisable for new talents to look for an agency in the surrounding area. Not only does this give you personal and family contact, but you also have more opportunities to get a good job, as most customers often sit near the agencies. Customers from New York usually book from agencies in New York, just as Los Angeles customers like to book from agencies in Los Angeles. Proximity to your agency is pretty helpful for your own career! Therefore, you should also be considered at the beginning of the search: where is the next, good agency?
In advertising you can not work as a young person, at 14, 15 or 16 years. Even as a "normal person" you can earn quite well in the advertising world his bun. Especially when it comes to commercials, of course, people are looking for something special or distinctive in itself. These can be tattoos, but also a special hairstyle or glaring teeth. It does not always have to be extreme. Imagine just a cereal commercial, here you would take normal people who sit together at the breakfast table. The same also applies to advertising for soft drinks and much more. In any case, interesting people are sought, who together with others give an exciting overall picture.
Recommendations for the US #1
Coming up this week!
How do you apply for a People Agency?
Many people ask themselves the question: How do I become a model? The first step is always a few photos and your application in an agency.
First photos for the agency application
E-Mail cover letter in very short form with pictures
No make-up, no blatant outfit, only you
First photos for the agency application
If you want to promote yourself to an agency, then you should definitely make sure that you have two good pictures of you. The photos do not have to be professionally produced, eg. from a photographer for models, you can easily make them with your phone! Whether Samsung or iPhone, just grab your cell phone, find yourself a bright wall, preferably with daylight, let's go! Make a portrait of yourself, then a full body photo. Now turn 90 degrees and take a profile picture of you, also in the portrait and overall body. The easiest way is with a friend who quickly takes the pictures.
E-Mail cover letter in very short form with pictures
In the next step you formulate a short e-mail, super short! If a scout from an agency discovers you, then your pictures are enough for you. You do not have to write much about yourself about what you've done in life or where you've lived before. Every model agent, whether in a modeling agency or in a people agency, can see pictures, name, age, place of residence and dimensions.
Of course wins! No make-up, no blatant outfit, only you
In any case, you should make sure that your pictures are as natural as possible, especially if you are a woman! Many forget the make-up or too distracting styling distracts from the own person. Likewise reluctant are gel nails or extensions or hair extensions. As a model, you should always make sure to keep his look, because once you have built his model portfolio, the customer books on the basis of the looks seen. If one changes his appearance now, the customer will be very dissatisfied with the photo shoot set. This is important later in the job as a model but also at the beginning, if you apply in an agency.
Be as natural as possible, do not try to distract yourself from anything. Naturalness is the alpha and omega and is highly valued not only by agencies, but also by customers.
https://modelagency.one/wp-content/uploads/2018/02/people-agencies-worldwide-usa-tattoo-best-ager-kids-child-commercial-advetising-los-angeles-new-york.jpg
475
1030
Trainee
https://modelagency.one/wp-content/uploads/2023/03/logo-icon-model-agency-one-new-york-los-angeles-paris-milan-london-best-agencies.svg
Trainee
2018-02-03 13:53:11
2020-11-11 11:34:43
People agencies: Recommendations for tattoo and extraordinary models