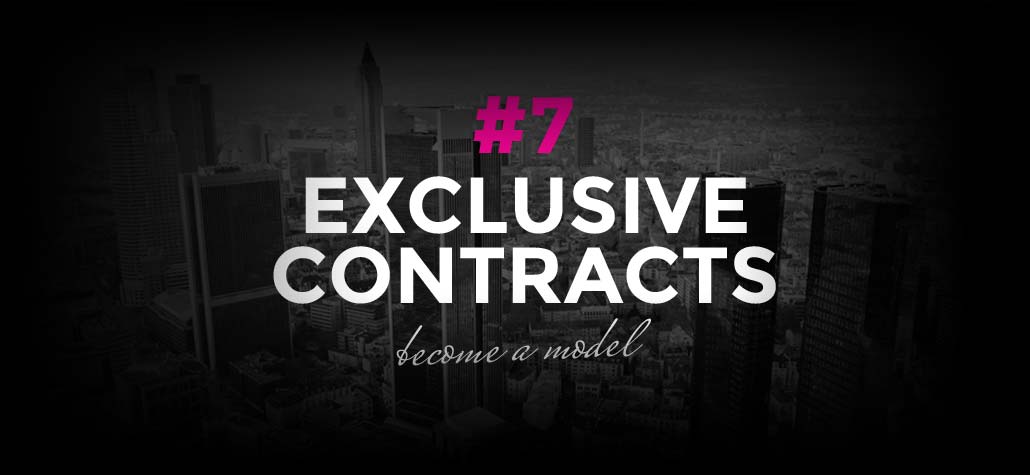 Exclusive contracts of modeling agencies | Become a model #7
Exclusive contracts – You might have heard of the so called "adhesion/exclusive contracts" whether it is in music, entertainment or fashion. The artist is not allowed to make his/her own decisions and remains tied for a long time.
Exclusive contracts with agencies
Exclusive contracts with brands
Exclusive contracts with agencies
Maybe you remember from the beginning of the chapter that models are self-employed because they have different companies to work for, now regular working hours or earnings. Based on that division from usual employees, self-employed people are not allowed to be tied to just one company. Because that one company would not pay any social security contributions for them (like health insurance, pension insurance etc.). If a company treats self-employed people still that way, as if it would be a fulltime employer, that is called "false self-employment" and is a criminal offense according to German Law. Therefore, it is not even allowed to issue exclusive contracts between agencies and models here in the United States.
If a model decides that he/she wants to work with an agency, that should be voluntary. It will show the agency to put more trust in you, and that investing in you is worth it. Overseas it is different though. There are lots of contracts with exclusive provisions. These contracts are also connected to a longer term of five or even six years. So, if you decide here to work with an agency, you have to be a 100% sure about that decision, because there is no going back. It is worth it to have a good mother agency that will take care of these details in your favor of course.
Feature x CM Models
Your in Germany the next days or weeks? Discover CM Models x Germany Casting Tour 2023.
Note > All that will not apply to agencies with registered offices overseas. So, contracts may include terms, exclusive provisions, contractual penalties, and higher commissions.
Exclusive contracts for brands
An exclusive contract for bigger, high end, international brands and campaigns is normal. Particularly if you are their face for a long period. With an exclusive contract, the model ties not to work with other companies. The model will get high payment, and the company may use the image of the model as identification and recognition factor for the brand. As I said, clients tend to use exclusive contracts for long-term bookings and for bigger jobs. That will give the company the assurance that the model and the image of the model will not used with a competitor. Usually, these contracts have a term of several years. An exclusive contract will make your market value higher.
Quest Author: Stephan M. Czaja / CM Models (Head Booker) from 'The Model Book'
https://modelagency.one/wp-content/uploads/2017/10/modeling-agency-become-a-model-7-exclusive-contracts-help-brands-be-careful.jpg
475
1030
Trainee
https://modelagency.one/wp-content/uploads/2023/03/logo-icon-model-agency-one-new-york-los-angeles-paris-milan-london-best-agencies.svg
Trainee
2018-01-20 23:24:51
2020-11-11 11:36:15
Exclusive contracts of modeling agencies | Become a model #7