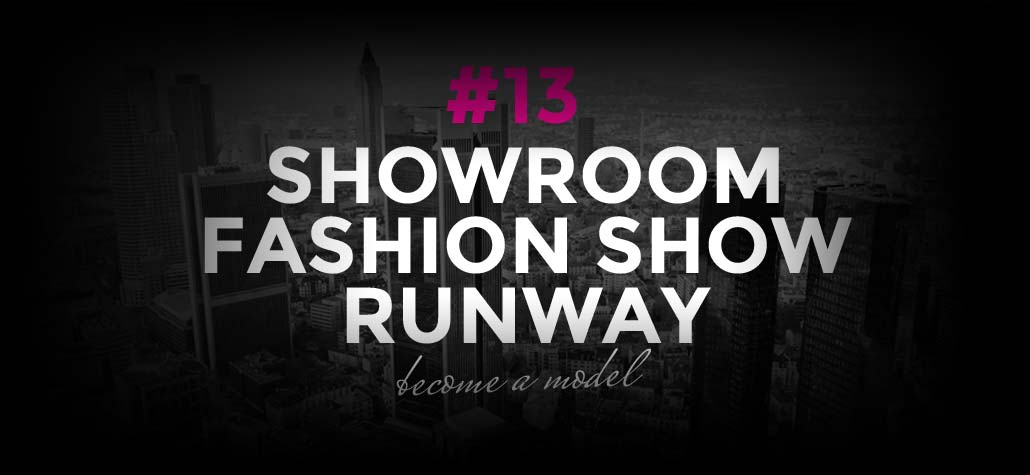 Modeling Jobs: Showroom, runway and fashion shows | Become a model #13
Fashion trade shows and shows will be taking place in all big cities. In general, every fashion trade show has a big retail center.  Manufacturer and retailer show their products in rags, while buyer and media representatives browse through the latest collection and look at different garments. Some of the bigger order trade shows will have designers shows. That is our keyword, runway shows at Fashion Week. Here, fifteen to twenty models will present collections in front of photographers, audience and magazines and meet celebrities, bloggers, editors and selected visitors. The smallest and most private presentation will be in showrooms. You will work in many showrooms at the beginning of your career as a high fashion model. They are located in almost every city. Not every successful brand or designer will automatically move into a bigger city, some stay in smaller ones. But still, most of them are in the centre, where everything happens.
Showroom: First jobs for new faces
Showroom jobs are a great entrance for models. A showroom should present the latest collection of a designer in front of less or fewer people. A showroom is a small stage, not very spectacular. There is no runway and no audience, just the designer, the team, some buyers, and you. Retailer and buyer are the most important people for the designer. The collection will be presented and selected pieces will be shown to retailer representatives and buyers from around the world.
Designer meets customer
With your help a buyer decides to get a certain model during the conversation with the designer, you will present it to them live. The buyer will then be able to have a closer look at the quality and tailoring of the garment, the fit and fabric. For showroom jobs, usually and mainly, new faces will be booked with perfect measurements, because experience and image is not so important for these jobs. It is important to be polite and in shape, like for the trade show jobs. You will find showrooms not only on trade shows, and the designers will present their collection throughout the whole year. Sometimes they are in the back of a boutique/store or in the atelier of a designer or the retail centre – but sometimes on trade shows. The payment for showroom jobs is lower because models only present and no pictures or videos are be taken. More important for these jobs: you might get to know designers like Guido Maria Kretschmer or their assistants or closest persons. Even at the beginning of your career, you will be working with international brands and if you are older, they might book you for follow up jobs. Like: showrooms in different cities, lookbook shots or even campaigns. Very similar are order trade shows. If you have done your first showroom job you will most likely get a booking for an order trade show. The payment here is higher and you will be working several days in a row. Of course, with additional travel expenses and including hotel.
Show and order trade shows
Collections for the latest season. Show and order trade shows, we just know them all, even the central trend ones in Paris, New York and London. Every fashion week is taking place at the same time as an order trade show or vice versa if you want to see it that way.
During the order days, there are not only trade shows for buyers. Important designers present their latest collection every new season only for invited guests and photographers. Those are media representatives, celebrities, musicians, photographers – all looking at the runways. There are exclusive venues taking place around the clock during order days. Of course, after show parties for invited guests, too. Not only retailer but agents will be able to network here. You will get to know a lot of people during the shows. As a model, you can either work here or at castings for the big runways. We will have a look at fashion week castings later.
Here, many international fashion brands are showing their new collection. There are many order trade shows. Even besides the runway, brands will have a lot of jobs at order trade shows. At the same time like the Fashion Week in Berlin, the "Bread&Butter", "Seek", "Bright", "Premium" and "Panorama" trade shows are taking place.
All trade shows book models of the agencies in advance. Like in showrooms you will see one or two models at the booth. There will be buyers passing buy, some from smaller stores, some from department stores and they will want to see the samples of the new season. If they are interested, you will present the selected pieces. Again, for an examination of quality and fit. The job is paid quite well compared to other jobs, because the client wants happy models that are able to work several days and still smiling.
Fashion and runway shows
For many, the runway shows of Fashion Week are the highlight. The "who is who" meets here. Fashion bloggers, media representatives, agencies owners, celebrities. A real exhibition skating it is. Why? Because those who work in fashion are spending a lot of time in the office or studio. For four or five days you will get out of that "daily routine" and be able to meet people that are just like you. Show after show, in between small talk in the lounge. Let us now look at the last part the of the show and order days: the shows.
Fashion is living from being special! Show and entertainment are part of marketing of every great brand. Every season, new collections will be launched by designers all over the world. Not only big international designers and retail chains work like that, but also smaller fashion labels. Because they have to present their customers new designs in order to get their attention. Therefore, designers and fashion have to reinvent themselves again in order to stay attractive for their consumers. Smaller shows are taking place in shopping centres all the time, but the Fashion Week presents the masterpieces. In Milan, New York, Paris, Hong Kong and London, every spring, summer, fall and winter season people are looking for new trends and looks. We will have a very close look at the world of Fashion Week shows and castings. I will even dedicate a whole chapter to Fashion Week. We will look at the "Big Four", "Berlin Fashion Week" and I will give you an insight into preparation, castings and shows.
Requirements for fashion shows
You will only work at shows if you are young and have the perfect measurements. One is the same with all designers: they create their collections for tall, slim people. The clothing is more elegant, garments and fabrics are floating and fitting better, and it looks exclusive like that. Graceful shapes will make clothing and their price higher. Even though not all fashion brands work with this basis, it is the main part of the industry. Runway shows and presentations underlie an unwritten norm. For female models, it is the strict clothing size of 34 (max. 34/36) and a height of 177-180 cm (which is ideal for the beginning of your career). Your hip measures below 91 cm. For male models, a clothing size of 48 (max 50/52) is set and a height of 185-192 cm. But you should be taller than 187 cm if you are a male model at a Fashion Week. After a couple of months or within the first one or two years, you will see everything. Test shoots, showrooms, shoots for online shops and first bigger projects. Now, it is time for your first big campaign or TV commercial.
Note > A tip for male models: at the beginning of your career you should be paying attention to a younger look for yourself. Therefore, as a male model you should always go to a casting shaved and well groomed.
Quest Author: Stephan M. Czaja / CM Models (Head Booker) from 'The Model Book'
https://modelagency.one/wp-content/uploads/2017/10/modeling-agency-become-a-model-13-showroom-fashion-show-runway-haute-couture-pret-a-porter.jpg
475
1030
Trainee
https://modelagency.one/wp-content/uploads/2023/03/logo-icon-model-agency-one-new-york-los-angeles-paris-milan-london-best-agencies.svg
Trainee
2018-02-26 23:17:23
2020-11-11 11:32:45
Modeling Jobs: Showroom, runway and fashion shows | Become a model #13