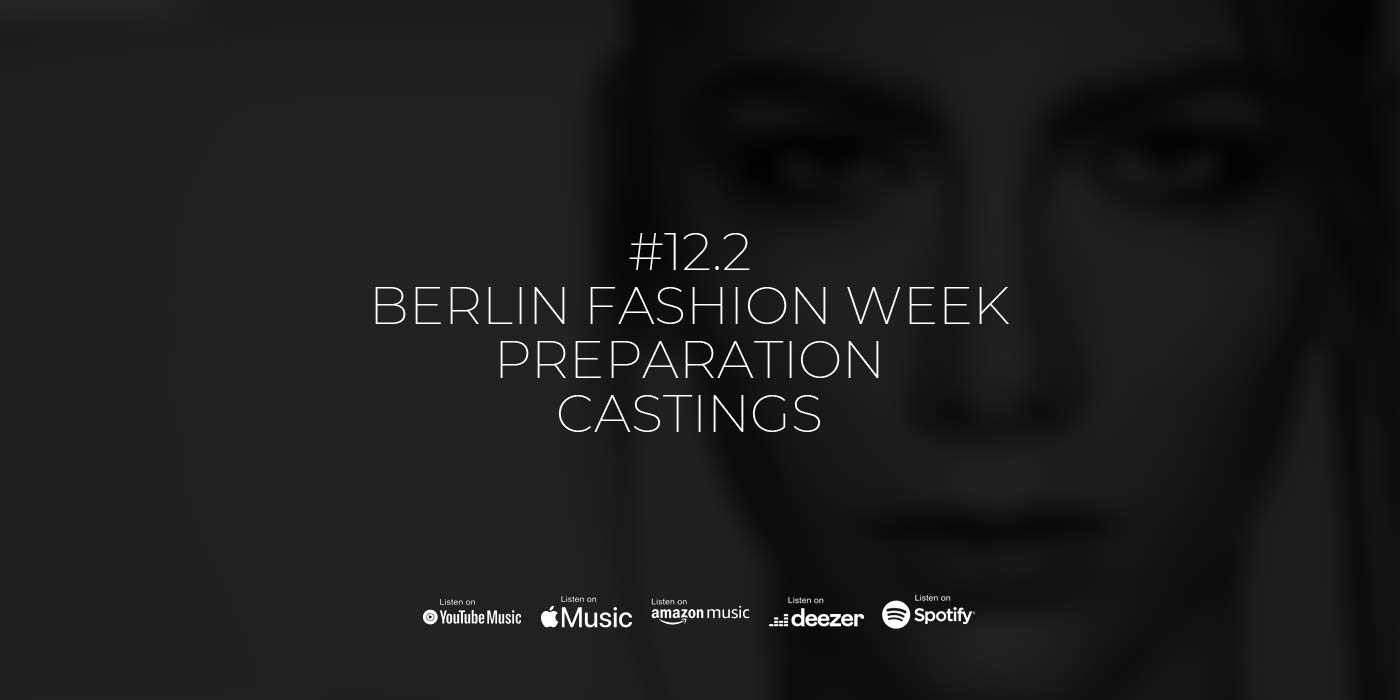 Episode 12.2: Berlin Fashion Week – castings, preparations & runway shows
Discover the vibrant and dynamic world of Berlin Fashion Week, an event that showcases the collections of both established designers and young talents, drawing fashion enthusiasts from all corners of Germany. Immerse yourself in the excitement of model castings, fittings, and exhilarating runway shows, where each model's brief fifteen seconds on stage become a moment of pure fashion magic.
Listen for free!
Tune in to Model Podcast on Apple, Spotify, Amazon, Deezer, and other podcast platforms.
Feature x CM Models
Your in Germany the next days or weeks? Discover CM Models x Germany Casting Tour 2023.
Coming soon!!
Your learings in this episode!
Prepare for an exciting journey into the heart of Berlin Fashion Week. In this episode, we will immerse you in the captivating world of one of the most dynamic fashion events in the industry. Discover why Berlin Fashion Week, though not part of the "Big Four," remains a metropolis of style and creativity. Learn how this biannual extravaganza attracts renowned designers like Wolfgang Joop, Michael Michalsky, and Hugo Boss, alongside emerging talents and newcomers, all eager to make their mark on the global stage.
Behind-the-Scenes: The Model Preparation
As we delve deeper into the preparations, you will gain insights into the meticulous planning that goes into selecting models for the runway. From casting sessions to creating compelling show packages, we will reveal how models and agencies work tirelessly to secure coveted invitations. Plus, we'll share essential tips for models to succeed in this highly competitive environment. The episode wouldn't be complete without a glimpse into the bustling fashion fairs, where buyers and managers from renowned fashion houses converge to discover the latest trends and collections. You'll get a sense of the trade fair's significance and how models play a vital role in presenting the brands to potential customers.
The Thrill of Model Castings
Curious about what happens during those intense casting sessions? We'll take you right into the heart of the action, where you'll experience the excitement and challenges models face as they compete for their dream gigs. Witness the thrill of getting selected and the resilience to handle rejections—every moment counts, and you'll be right there with them. From bustling boutiques to rented apartments and hotel meeting rooms, you'll see how models navigate the casting process and leave a lasting impression on designers and juries.
The Grand Finale: Runway Shows
Finally, brace yourself for the grand finale—the runway shows. We'll walk you through the adrenaline rush as models take those captivating strides, the flash of cameras capturing their every move. You'll get a firsthand glimpse of the magical moments that define the culmination of weeks of preparation and hard work. Whether you're an aspiring model, a fashion aficionado, or simply curious about the behind-the-scenes magic, this episode promises to be a thrilling experience you won't want to miss! Join us on this exhilarating journey through Berlin Fashion Week, where you'll gain unique insights into the world of fashion, the dedication of models and agencies, and the spectacle that captivates audiences year after year.
https://modelagency.one/wp-content/uploads/2023/07/12.2-Berlin-Fashion-Week-preperations-castings.jpg
700
1400
Trainee
https://modelagency.one/wp-content/uploads/2023/03/logo-icon-model-agency-one-new-york-los-angeles-paris-milan-london-best-agencies.svg
Trainee
2023-07-31 09:47:30
2023-07-31 09:47:30
Episode 12.2: Berlin Fashion Week – castings, preparations & runway shows