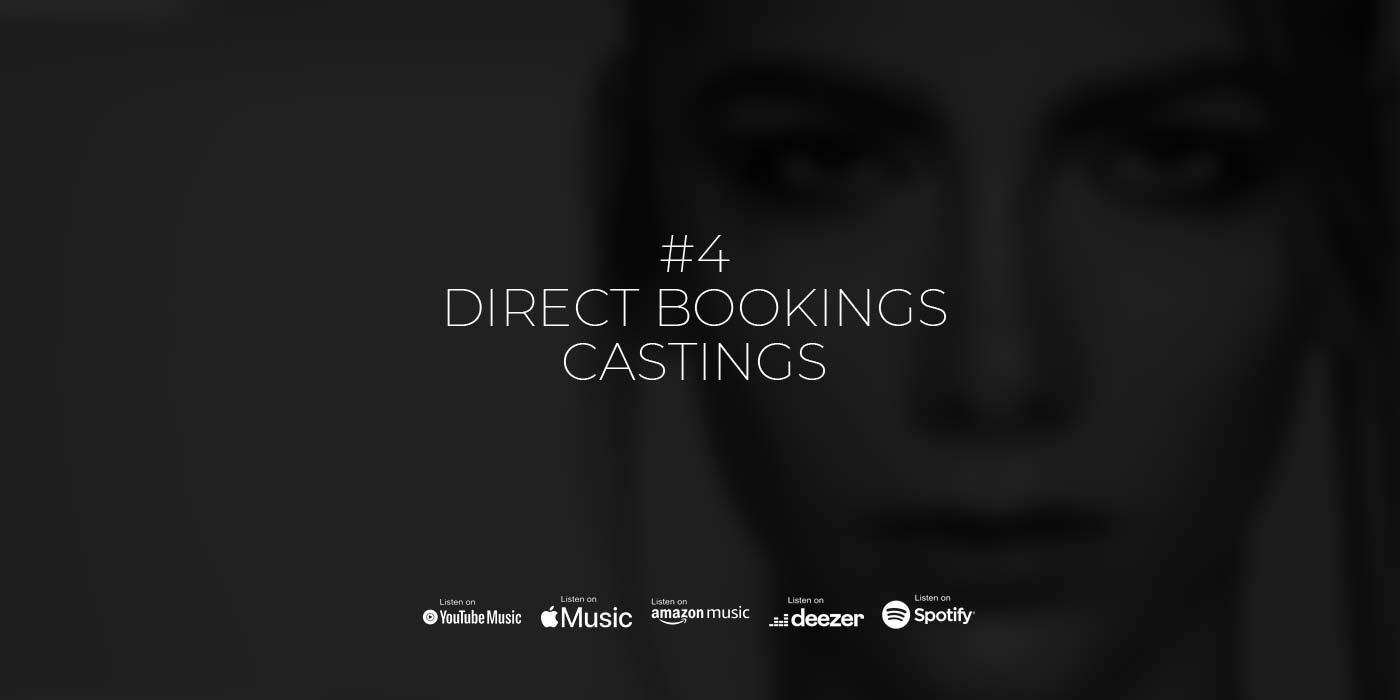 Episode 4: Direct bookings & castings within the modeling industry
Direct Bookings and Castings – In this captivating episode, we delve into the fascinating realm of direct bookings and castings within the modeling industry. We'll uncover how a well-prepared model book can open doors to exciting global opportunities. Discover the nuances between live and e-castings, and glean essential success tips for thriving in this fiercely competitive field.
Listen for free!
Tune in to The Model Podcast on Apple, Spotify, Amazon, Deezer, and all major podcast platforms.


Your learnings in this episode!
Begin an exhilarating exploration of the modeling world as we delve into the magnetic charm of direct bookings and the intricacies of castings.
Feature x CM Models
Your in Germany the next days or weeks? Discover CM Models x Germany Casting Tour 2023.
The Power of Direct Bookings
Unlock the key to bypassing castings and securing direct bookings in the modeling industry. Discover how your sedcard and model book can serve as your ultimate tickets to remarkable campaigns and worldwide opportunities, even as a newcomer. Gain insights into attracting attention from prominent advertising agencies and renowned brands through international agencies.
Unveiling the Dynamics of Castings
Step into the thrilling world of castings as we shed light on two primary types: live castings and e-castings. Unravel the elements that make a lasting impact in these nerve-testing moments. Learn the art of crafting compelling casting videos for e-castings and showcasing your charisma during live castings.
Preparing for Success at Go-Sees and Live Castings
Preparation is paramount! Equip yourself with essential tips for go-sees and live castings. Discover the significance of attire, punctuality, and presenting your model book and sedcard. Master the art of leaving a memorable impression on casting agents, thereby increasing your chances of progressing in the casting process.
The Path to Success in the Modeling World
Nurture aspirations for greatness by attending numerous castings and embracing each opportunity. Experience the reality of competition while recognizing the potential to land exceptional jobs and campaigns. Gain exclusive insights into the inner workings of modeling agencies, from inquiries to booking procedures, and set yourself on a path to success in the exhilarating world of modeling. Let's dive in together and unlock the industry's secrets!
https://modelagency.one/wp-content/uploads/2023/07/4-direct-bookings-castings.jpg
700
1400
Trainee
https://modelagency.one/wp-content/uploads/2023/03/logo-icon-model-agency-one-new-york-los-angeles-paris-milan-london-best-agencies.svg
Trainee
2023-07-21 09:58:49
2023-07-21 10:00:27
Episode 4: Direct bookings & castings within the modeling industry