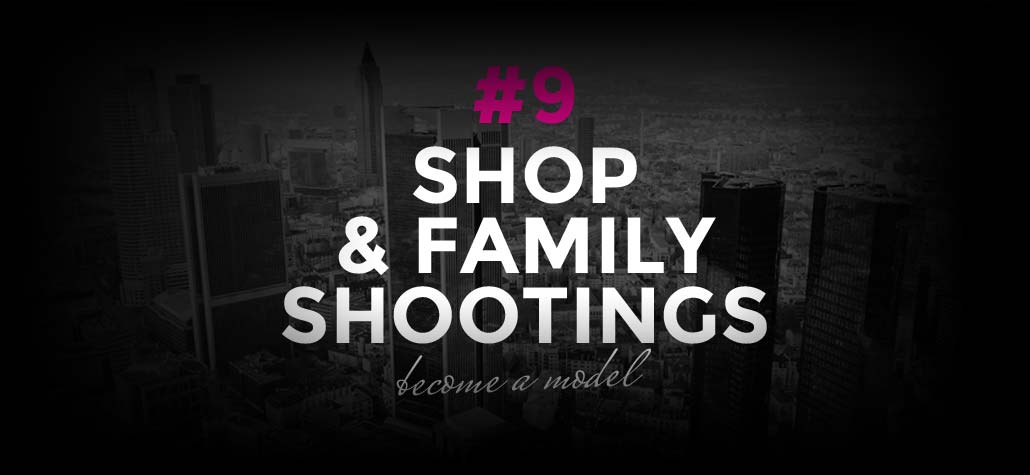 Modeling Jobs: Online shops and family shootings | Become a model #9
Beginning as a new face, you will mainly work for online shops. Before it was catalog, and now it is online shops. Everything is sold via the internet and therefore, new pictures are needed all the time, for every new season and every new product. For you, as a model it is not so much about the perfect picture, which you have to produce for the production (like in photoshoots), but the amount of pictures. You will mostly be alone in front of the camera and not acting with other models. You will be booked as model for fashion. Bookings will range from smaller labels to bigger department stores. If new faces are booked, photographers and productions already know that they cannot expect a big variation of poses and expressions. It is your job to shoot the set number of pieces/garments, accessories and products. You will most likely always do the same pose. If you ever heard about "mannequins", this would be the best expression for this kind of job in which you will shoot, very monotonous. Sometimes, shoots are even done without recognition – only a part of your body will be shown then.
Even though lots of new faces think they are already quite good in facial expressions and posing: well, short and sweet, No! Just look at some professional models on YouTube who are able to do more than hundred of different poses, jumps and so one. As a new face, you have to learn a lot. Of course the pressure is on! The better your book gets, the better you will get, and the better and bigger the jobs. Not only lookbooks but also online shop shoots will become more demanding. It could be that have to shoot with several models on a turning platform. You are walking in studio on an approx. two meters big platform, that is turning all the time and will present the clothes. They will take pictures and videos at the same time. A very exhausting job compared to a "mannequin". And even more demanding are jobs where you are not only the model, but also have to interact with other people. For campaigns, it is mostly about the one perfect shot. We will now look at how high expectations of a photo shoot can be.
Family shoots: Be happy… always!
There are lots of exhausting productions. We also had the most crazy storyboards and commercial production. From a family father of a TV commercial for cars, from a person climbing down a helicopter or surreal productions for fragrances. Let us look at the classic, which we can convey into many situations. For example, you have to learn how to play with kids and interact with other models. One picture maybe shot for hours. And everybody is just waiting for the models to portray the perfect emotions in the perfect moment, and all posing comes together perfectly. Let's say the father should play with his child and throw a ball, while the mother is happily clapping her hands, and the dog is looking at the camera while lying on the sofa. Father, mother, child and dog situation – and all has to be simultaneously perfect in one moment. The scene will be repeated and repeated, again and again. Very exhausting! For every single shot, you have to portray that emotion again. It is a challenge to deliver on this job, that demands lots of practice and talent.
Photoshoots and responsibility: It belongs to you as a model
Particularly pictures, which are big on billboards, are always connected to a big production and team. We had bigger productions for bigger clients, which seemed so "small". TV commercials, which are filmed with smaller cameras, filmed by the model herself/himself for the social media channel of the brand. No matter what, every campaign, whether it has been produced in a "simple" way or high class level, it has been planned throughout months for advertising by the commercial agency. After that, photographer, equipment, location, catering and much more will be booked for the shoot. And all that just for one picture.
So, the success of a photoshoot is connected to the moment, and therefore to you. Your performance has to be on point. Your smile has to be perfect, even if you had a long night flight the day before. And even then, if you didn't sleep that much, or are sick. Because you cannot just cancel a production. Experienced models are therefore worth a lot on set, because they deliver their best performance at photoshoots.
Besides fashion, beauty campaigns are also very important for commercial models, when it is about a "daily" photoshoot. Skincare products for women are a huge market, which will always be connected to great skin, beautiful hair and a youthful tint. For every season, there are new products. Spring, summer, fall and winter – every season has its own special skincare. For being beautiful, many are willing to invest a lot of money, each week or every month. Therefore, new TV commercials are being produced regularly. And that is why we will now look at beauty models!
Quest Author: Stephan M. Czaja / CM Models (Head Booker) from 'The Model Book'
https://modelagency.one/wp-content/uploads/2017/10/modeling-agency-become-a-model-9-online-shop-shooting-family-smile-fun-happy-models.jpg
475
1030
Trainee
https://modelagency.one/wp-content/uploads/2023/03/logo-icon-model-agency-one-new-york-los-angeles-paris-milan-london-best-agencies.svg
Trainee
2018-01-22 23:17:17
2020-11-11 11:35:36
Modeling Jobs: Online shops and family shootings | Become a model #9