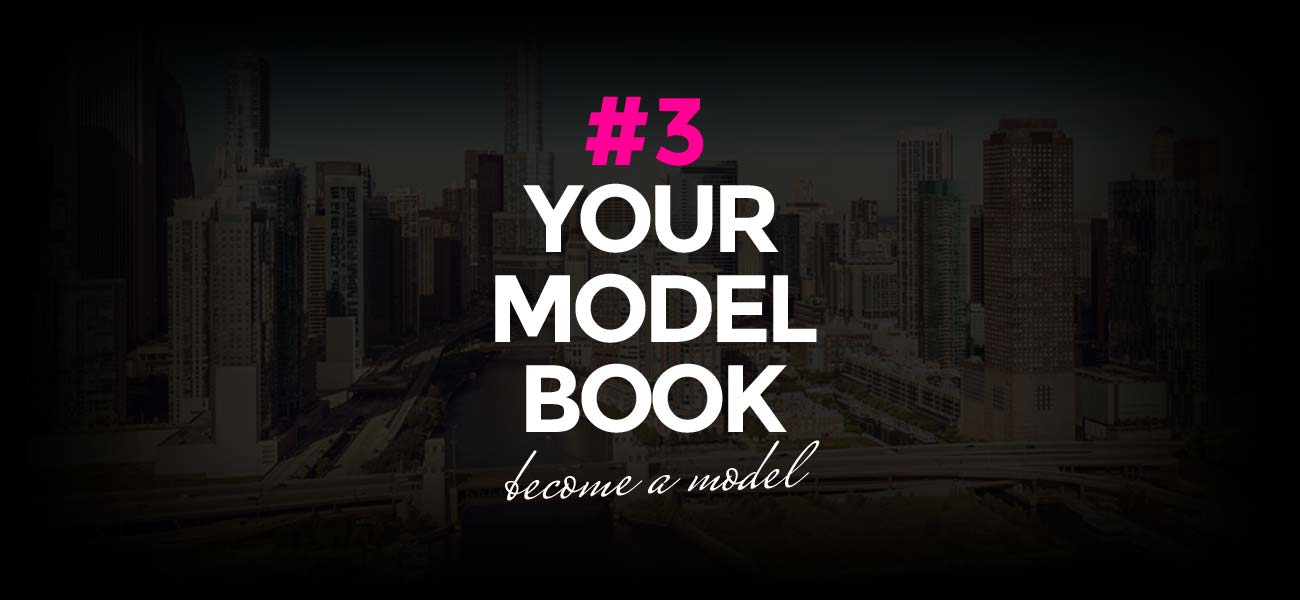 How To Get A Strong Model Book for Castings and Jobs? | Become a model #3
The good old model book, a real must-have as a model. At castings, jobs and visiting agencies your book is your support. Even if you meet other models, you will always exchange your books and have a look at them. In your model book you are presenting your selection of your best pictures from jobs and test shoots. Clients and agencies are now able to get an idea of you as model: your facial expressions and posing. In everyday life you don't often need your model book, only later if you are being casted internationally or for bigger jobs. Many agencies offer their models their own book with branding. Often you have to buy your first book yourself though. You should always look for great quality and some other features like space for sedcards and business cards. Then you will be well prepared for castings and have everything within your book: pictures, sedcards and business cards of your agency. In doing so you are already increasing your chances for the job just by handing over your model book. Let us know take a look at the details of your book. From the number of pictures to the selection of pictures. After that I will also get back to test shoots.
Quest Author: Stephan M. Czaja / CM Models (Head Booker) from 'The Model Book'
Your model book: The basics for success
As I already described, your book will help you get jobs at castings and agencies. They will see at first glance that you are prepared and have thought about your job. A real plus for you. You will often present your modelbook to people who evaluate your appearance. Whether it is the boss of the agency, creative art directors, photographers, or head of marketing. Preparation is your job and you are halfway there. You have to consider some standards when buying your modelbook if you are not getting one from your agency. Your book should be high quality. Material should be well maintained and clean. As I said, a lot of people will see your book and you have to make it look great. The international standard is set by American requirements, the country of the first supermodels.
Feature x CM Models
Your in Germany the next days or weeks? Discover CM Models x Germany Casting Tour 2023.
I am getting asked by a lot of models what it comes down to that a client will actually have a look at your book at a casting. New models are particularly very interested in showing their pictures to clients to increase their chances on getting the job. How does that work? Well, ideally you need your own book, which shows how versatile you are as model. Your campaign is nothing different. The better the variety of pictures you are showing, the more versatile you will be to clients and they will be able to better incorporate you. Your client knows how you will fit in shootings and work on set. Your best pictures should be at the beginning of your book, because castings tend to get hectic or lots of models are there, and the client might not always have the time to look at your entire model book. Therefore, just put your best pictures at the beginning.
Do you need an entire full book as new face?
No, just a few good pictures are enough. They just have to show you at your best. Not all pages have to be filled up. Quality is better than quantity – as they always say.
Prints of your pictures
Usually more people are sitting at a table at your gosee and castings. Your book will only be held by one person though. In order to get the jury looking at it too, the pictures should be big enough. We all know the DIN A4 format, which apparently is the best size. The standard picture size is 9"x12"Inch (which would be a DIN A4 size if you convert it). Where should you print your pictures? In a photo shop, grocery store in big cities using the format 20x30cm. That is the biggest format for usual picture printers.
Quality of shootings
Since I started writing this book, this has been my favorite subject: quality! You should never try to build up your book on the fast lane. It is more important to have a selection of great photographers and great pictures! Clients only want the best for their brand or customers and you should always keep that in mind. Every test shoot or job will deliver you one or two pictures for your book. As soon as you have three, four pages filled up, you can start to select from your test shoots and still quality comes before quantity. As new face, you can be honest at castings and say that you are still building up your book. As soon as you are with an agency and had your first test with a good photographer you will receive requests on Instagram, Facebook etc. It is a compliment for you at that moment.
Secondly, you will have to be more selective now. Which test is good for your book? You will get some options from your agency as well. As a model, you will look and also select your test shoots yourself. As described for new faces, I would not recommend shooting with every photographer. I understand that it is tempting to shoot lots of pictures at the beginning, but you will lose your exclusiveness if they see you on Facebook or Instagram all the time. Or for test shoots with photographers (which means they are unpaid). Your value as model will decrease. It should be your goal to only shoot with selected photographers to improve your book. In doing so you will get better results. Only if you take the time to put quality into your book you will work as a model on the long-term and travel a lot. Therefore, we will now look at how you can convince photographers of your modeling abilities.
Model book checklist:
A high-quality book with thick hardcover and back and extra space for printed sedcards (usually DIN A5 format).
At castings, designers and casting directors will keep sedcards of models. Your book should have space for printed sedcards and you have to consider this when buying your book (some "portfolio books" don't have that extra space).
Twenty clear pages for forty pictures (respective front and back side). You will remember the measurements of a classic model book when you remember the DIN A4 format. The book is just slightly bigger. You can easily print your pictures in a photoshoot or grocery store.
Business cards of your agency.
Best pictures in the front pages.
Show versatility and a selection of your best pictures – remember quality before quantity.
Usually, you can use two pictures of each editorial, otherwise it will get boring. As new face, you are able to tell them honestly that your book is not complete yet.
Quality of test shoots
You should be selective with pictures and photographers and not work with everybody. Only work with those that you believe are the best ones for you.
Now you know everything about your model book! But, how do you convince photographers for test shootings? Remember, quality is important, not quantity. Read more about test shootings and photographers for models.
Quest Author: Stephan M. Czaja / CM Models (Head Booker) from 'The Model Book'
https://modelagency.one/wp-content/uploads/2017/09/how-to-strong-model-book-castings-jobs.jpg
600
1300
Trainee
https://modelagency.one/wp-content/uploads/2023/03/logo-icon-model-agency-one-new-york-los-angeles-paris-milan-london-best-agencies.svg
Trainee
2017-11-18 18:00:03
2020-11-11 11:09:22
How To Get A Strong Model Book for Castings and Jobs? | Become a model #3