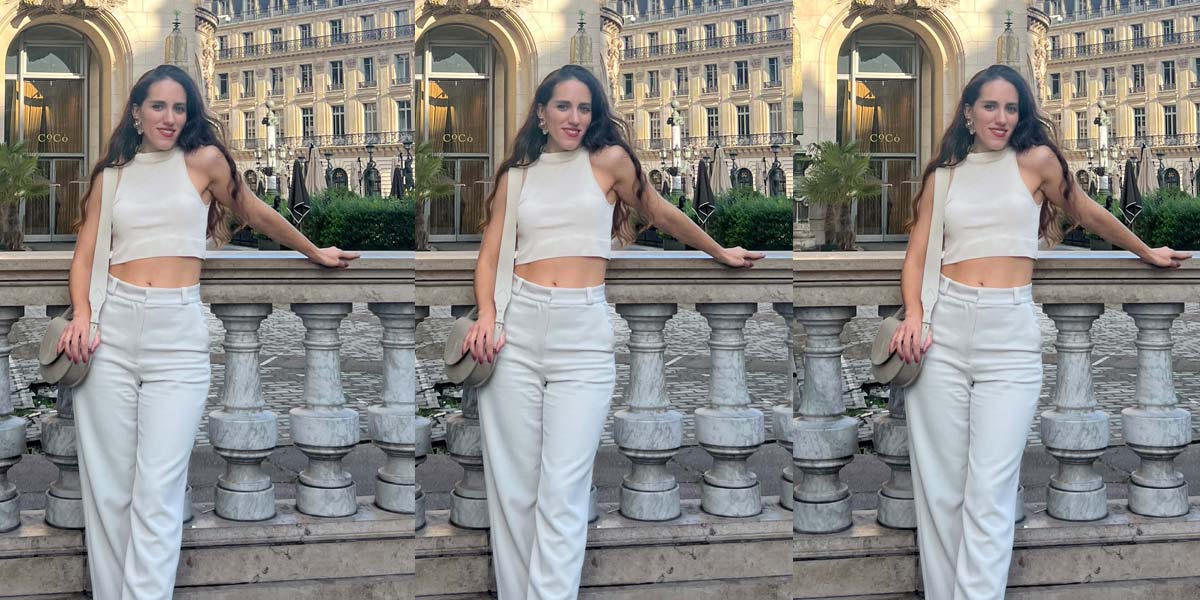 Raquel Trejo: The Reality Of Being A Stylist And A Producer
Entrevista a Raquel Trejo – ¿Conoces realmente la vida real de un estilista? En esta entrevista con Raquel Trejo aprenderás todo lo que necesitas saber. Su rutina diaria, por qué eligió este trabajo y lo mejor de él. Sus últimos estilos y sus mejores trabajos también en su instagram .
La rutina diaria de Raquel
MAO: Convertirse en un elegante, el sueño de toda chica. ¿Puedes describir un día como estilista?
RAQUEL: Cuando no estoy filmando, mi día suele estar un 30% en la computadora o el teléfono y un 70% comprando en tiendas o visitando salas de exhibición. Para una campaña o una editorial, primero tengo que preparar el estilismo, eligiendo los looks según la inspiración o el target de la marca, y luego voy a buscar los looks. Y luego, tengo que devolver la ropa, ¡la parte menos divertida de ser estilista!
MAO: ¿Y un día como productor?
RAQUEL: El trabajo del productor incluye buscar locaciones, discutir la dirección creativa, hablar con el maquillador y el peluquero, elegir la modelo, hablar con el fotógrafo, etc. También hay días en los que paso todo el tiempo en la computadora, tratando con clientes, envío de facturas, búsqueda de nuevas inspiraciones, etc.; y otros días en los que tengo que asistir a jornadas de prensa, desfiles de moda o eventos.
Lo mejor de las obras de Raquel
MAO: ¿Qué es lo que más te gusta de tu trabajo?
RAQUEL: La gente. Trabajar con personas que aman absolutamente su trabajo marca una gran diferencia, y compartir los mismos intereses y pasiones es fantástico. Me he hecho amigo de algunos de ellos. Me siento muy orgulloso porque no puedo imaginarme trabajando con personas a las que no les gusta su trabajo, puedes sentir eso en la energía que me rodea.
Sieh dir diesen Beitrag auf Instagram an
Instagram: la inspiración de un estilista
MAO: ¿Qué te inspira cuando haces un trabajo?
RAQUEL: Instagram es mi primera herramienta cuando tengo que buscar inspiración. Tengo muchas carpetas con fotos que me gustan, pero a veces la inspiración puede venir del lugar mismo o de la historia detrás de la marca, por ejemplo. 
Objetivo Principal: Sorprender Al Cliente
MAO: ¿Cómo puede un estilista sobresalir del resto?
RAQUEL: En editoriales se trata de hacer algo diferente, que no se ha visto mucho en el momento presente, y además tener buenas conexiones en marcas de lujo. En las campañas, se trata más de comprender la necesidad del cliente y conectarse con él/ella, entregando una gran campaña que no esperan y que los ayude a aumentar sus ventas.
De estilista a productora: su compañía
MAO: También tienes tu propia productora. ¿Qué te hizo decidir emprender tu propio negocio de moda?
RAQUEL: Todo fue por una marca egipcia con la que solía trabajar para colocaciones editoriales, Jude Benhalim. Me pidieron que comenzara a hacer la producción completa para ellos. Después de esa marca, más clientes querían que hiciera tanto producción como estilismo, así que durante el cierre de la pandemia pensé en materializar eso en una empresa y creé Moda Company. Ahora ofrezco el servicio de producción por mi cuenta, como lo hice recientemente para Dior para Elle México.
La combinación de sus dos obras
MAO: Puedes combinar tus trabajos. ¿Cada uno de tus trabajos, productor y estilista, te ayuda a ser mejor en el otro, respectivamente?
RAQUEL: Estar en contacto directo con el cliente te da una mejor perspectiva de lo que está buscando, sobre el tipo de campaña o editorial que está buscando. También te da la oportunidad de dirigir el equipo y el tiempo para que puedas asegurarte de que todo va por buen camino. Si el proyecto es demasiado grande, por supuesto cuento con asistentes de estilismo para ayudarme.
MAO: No todos los días tienes la oportunidad de conocer a un estilista tan exitoso como tú, ha sido un verdadero placer tenerte en Model Agency One. ¡Le deseamos todo lo mejor!
Sieh dir diesen Beitrag auf Instagram an
https://modelagency.one/wp-content/uploads/2022/11/raquel-trjo-stylish-portrait.jpg
600
1200
Trainee
https://modelagency.one/wp-content/uploads/2023/03/logo-icon-model-agency-one-new-york-los-angeles-paris-milan-london-best-agencies.svg
Trainee
2022-12-27 09:00:58
2023-02-23 13:40:30
Raquel Trejo: The Reality Of Being A Stylist And A Producer