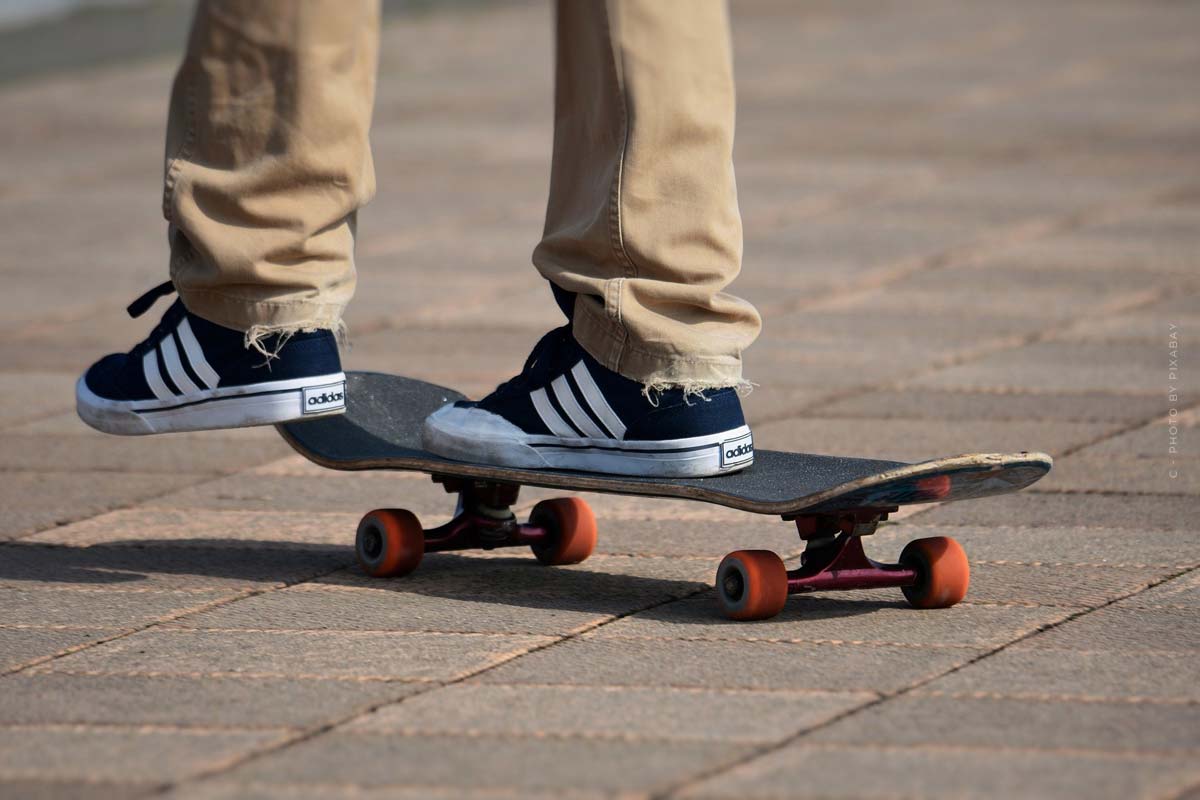 Adidas: Sneakers, Kanye West & Collaborations
Adidas – This article is not only about one of the most famous sporting goods manufacturers in the world, but also about the development of Adidas. The brand has established itself as a streetwear brand, collaborating with famous faces and releasing various streetwear collections. These include reality star and entrepreneur Kylie Jenner, R&B singer Beyoncé, rapper Kanye West and designer Yohji Yammamoto. More videos and info on Adidas fashion here.
Summer & Winter for men and women
The three parallel stripes are the trademark of Adidas. These symbolise the corporate sales focus in which parts of the world Adidas can be purchased. These are North America, Europe and Asia.
Winter: About You Fashion Week with the motto "Freedom of Identity"
The new Adidas collection represents the values of giving free rein to your own identity and styling yourself the way you feel like, without looking at what others might think or say about your clothing style. So the motto is: let your originality run free!
Feature x CM Models
Your in Germany the next days or weeks? Discover CM Models x Germany Casting Tour 2023.
As you can see from the motto of AYFW, the show is all about cohesion among women. Adidas and Zalando focus on mutual support and togetherness.
Commercials: Adidas focuses on the three golden P's – Paul, Pogba and Prada
The diversity of Adidas is very visible in the following commercials. They work with many well-known personalities. On the one hand, the sports brand is very focused on sports and sporting goods. On the other hand, Adidas is also a streetwear brand that collaborates with various designers.
Manchester United star Pogba dribbles several collections with Adidas
In cooperation with French international and Manchester United football star Paul Pogba, Adidas launches football boots. The Frenchman's first collaboration with Adidas appeared in 2017. In total, there are five collections that include football and basketball articles as well as streetwear clothing.
Tapered duo: Prada collaborates with Adidas to launch sneakers
Sneakers are not only popular in football. Adidas is also popular in high fashion. In 2020, Prada collaborates with Adidas and combines luxury with sport by launching the Adidas Superstar x Prada sneaker.
America's favourite VIPs: Kanye West, Kylie Jenner and Beyoncé Knowles
Numerous US celebrities, such as Kanye West, Beyoncé and Kylie Jenner work with the company and design a large number of successful streetwear collections and sneakers.
Walking on water with Adidas – Yeezus aka Kanye West drops sneaker x Adidas
US rapper and designer Kanye West collaborated with Adidas to debut the Yeezy Season 1. The shoes he designed with Adidas won the "Shoe of the Year" award.
Interview with Yohji Yammamoto – Japan's Fashion Legend
Y. Yammamoto started working on his cuts in the back room of his mother's sewing shop. To push his label further he went to Paris and shocked the Parisian fashion world with his creations. Now he is world famous and one of the most important designers.
Y-3 x Adidas – The Fusion of High Fashion and Sportswear
Japanese fashion designer and label founder of "Y's" Yohji Yammamoto is known for his extraordinary designs. He not only designs women's and men's fashion, but his range also includes perfumes and accessories. Since 2002, Yamamoto has been the creative director of Adidas' Y-3 line and has enjoyed incredible success.
Brands like Adidas
Want to learn more about  fashion? Here we go:
Calvin Klein
You probably know the label through the famous underwear with lettering or the fragrance ck one. The label stands for bold, individual ideals and an attractive, as well as aesthetic that is supported by the simple yet elegantly designed clothing line. You want to know more about Calvin Klein´s fashion? In this article you find their famous fashion shows as well as their flagship products, like the underwear and also some interviews and celebrities like Kendall Jenner.
Kenzo
The designer Kenzo Takada, who came to Europe from Japan in a slow boat, shook up fashion with his wild prints and Eastern influences. Kenzo Takada, along with Issey Miyake and Hanae Mori, was one of the first wave of Japanese designers to conquer the exclusive world of Paris fashion in the 1970s.Known for his innovative tailoring and excessive use of color and pattern, Kenzo's designs were inspired by a kind of wanderlust, with an eclectic mix of different global styles and cultures. In this article we show you Kenzos flagship products lik the kalifornia bag or the tiger sweathsirt, also some collaborations and interviews. Let´s have a look at Kenzo!
https://modelagency.one/wp-content/uploads/2021/12/adidas-schuhe-kateboard-sneaker-beine-fuse.jpg
800
1200
Trainee
https://modelagency.one/wp-content/uploads/2023/03/logo-icon-model-agency-one-new-york-los-angeles-paris-milan-london-best-agencies.svg
Trainee
2021-12-01 14:13:35
2021-12-01 14:13:35
Adidas: Sneakers, Kanye West & Collaborations