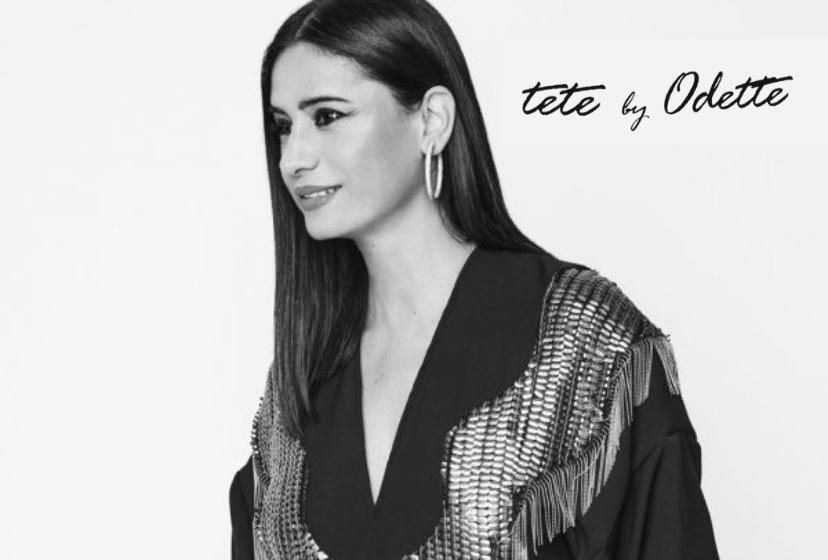 Odette: The Powerful Designer Behind "Tete By Odette"
Interview with Odette – Amazing woman. Amazing designer. And amazing designs. Creator of "Tete by Odette". Successful Spanish haute couture. Her achievements. Her best memories.  Her must-haves. What it's like to take a brand from Santander to the top. Odette is here to let us know.
Odette Álvarez: The Creator
Odette Álvarez. Born in Santander, Spain. She has always had a clear idea of what she would do for a living. Design. She founded her firm "Tete By Odette" years ago and since then she has not stopped winning awards. She was named "businesswoman of the year" by the ADMEC. "Alberto Pico" and "Lifetime Achievement" awards are just a few more. 2023 will be a year of achievements for her. Participation in MB Fashion Week Madrid and the opening of a new atelier in Madrid.
Ten Years Fighting For A Dream
MAO: You have been working on your brand for almost ten years and you have experienced many changes in trends and tastes. How have you managed to stay in fashion, but always true to your essence?
Odette: I have always done what I liked and created that identity that is so important for a brand. That you continue to be recognised when your clothes reach an editorial, or when they see a celebrity in the street, that's the most important thing. I have changed a lot, but I have remained faithful to the brand and its essence.
The Brand: The Designer's Emotions
MAO: What do you search to express with your collections?
Odette: What I transmit depends on my emotions. As designers, we are very influenced by our moods when we create. In each collection I let myself be carried away by that, and I always try to reflect the most positive things, although that's not always possible. It's also nice to reflect those not so good feelings we have.
The Meaning Behind "Odegna"
MAO: You worked hard for many years to bring your collection "Odegna" to Mercedes Benz Fashion Week in 2021. Do you think you achieved your dream?
Odette: That collection meant a lot to me because it was during the pandemic. It was also the first one presented as Odette Alvarez and not as Tete By Odette. Odegna is my mother's name and it was a tribute to her. To thank her for all that I am because of her. I always saw at home, because of her and my grandmother, the theme of fashion and that is what is reflected. And of course, being at Fashion Week is a dream come true.
The Impact Of Fashion Week
MAO: From your own experience, do you think Madrid Fashion Week helped you to expand your business? Did it give you the visibility you were hoping for?
Odette: I think it's important to be there. The visibility, the media coverage, the celebrities, the press, etc. For a brand one of the most important things is to be seen.
Santander: Her Safe Place
MAO: Is it easy to start an artistic project in a small city like Santander?
Odette: Santander is a wonderful city where we all know each other and at the beginning it wasn't easy. But I can't complain, I've always had a lot of support here at all levels and my clients are very good clients, loyal from the beginning. It was hard but I was very clear about where I wanted to go. My atelier is in Santander, although I travel a lot to Madrid for branding, but I combine it quite well. I feel that Santander is my safe place. I feel lucky.
Must-Haves By Odette Álvarez
MAO: 5 must-haves in any wardrobe.
Odette: It's clear to me. A good bag, good shoes, a good belt, a nice lingerie and a good accessory. And a "Tete" of course!
Little Things That Change A Life
MAO: Of all the experiences you've had over the years, which one do you choose?
Odette: There are many but I would say the first publication in Vogue, that marked me. Also a publication in Hola Fashion, with Nieves Álvarez and Laura Ponte, the shooting of Naty Abascal and photographer Manu Sierra, and then I've worked with all of them. Who was going to say it to me! And I could also mention when Olivia Palermo talked about me in her blog, many years ago. It was wonderful.
Ver esta publicación en Instagram
New York: Can Dreams Come True?
MAO: From Santander to Madrid, any international projects in mind?
Odette: Now I finally managed to open my showrrom in Madrid. We also have a showroom in Milan and points of sale in ski resorts, as well as sales all over the world. But when I'm asked about this, I always say that dreams come true and why not fight for a boutique in Soho in New York.
Ver esta publicación en Instagram
https://modelagency.one/wp-content/uploads/2023/01/4da5c891-e8e7-4724-bbe6-49af9c0c2f57.jpg
560
828
Trainee
https://modelagency.one/wp-content/uploads/2023/03/logo-icon-model-agency-one-new-york-los-angeles-paris-milan-london-best-agencies.svg
Trainee
2023-01-12 11:00:31
2023-01-11 22:21:17
Odette: The Powerful Designer Behind "Tete By Odette"